Hall of Fame - Dean Brindle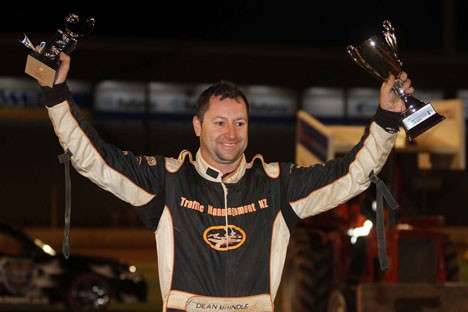 Dean attended Te Awamutu College from 1989 – 1992. He started racing Mini Sprints a Kihikihi when he was still at school at age 16. Dean has run 2 successful racing campaigns in the USA.
His major successes include being 1NZ, 2NZ and 3NZ winning the National Series at Western Springs and also being Team Captain for the New Zealand International Sprintcar Team.
Dean has also been voted NZ Sprintcar driver of the year 3 times.
Notable results include:
3rd North Island Champs –2001/2002
1st Place Bay Park Season Championship – 2001/2002
Most Feature Wins – 2001/2002
1st Gisborne Invitation
BestPrepared Car and Crew (3 years running)
1st South Pacific Champs - 2005/2006
1st South Pacific Champs -2006/2007
1st NZ Grand Prix 2006/2007
3rd Springs National Series -2006/2007
1st Gisborne Invitational 2006/2007
2nd International Sprint Car -Series 2007/2008
2nd NZ Grand Prix 2007/2008
2nd Springs National Series -2007/2008
1st International Sprint Car Invitation Ruapuna
2nd Sprintcar Gold Cup Ruapuna 2007/2008
1st Gold cup Baypark 2007/2008
New Zealand Champion 2008/2009
3rd North Island Championship 2008/2009
1st Wellington Sprintcar Invitational 2008/2009
1st Waikato Championship 2008/2009
National Sprintcar Driver of the year 2009
Best Presented Car and Crew – Auckland Sprintcar Club 2009
Best printed promotional Item – Dean Brindle Racing Poster (featuring sponsors)
2nd North Island Championship 2009/2010
1st Sprintcar Stampede 2009/2010
3rd Western Springs National Series 2009/2010
3rd International Sprintcar Series 2009/2010
1st Waikato Championship 2009/2010
1st NZ Grand Prix 2010/2011
1st Kiwi Home NZ Champs 2010/2011
1st Waikato Championship 2010/2011
2nd International Sprintcar Series 2011/2012
2nd Western Springs National Series 2011/2012
2nd NZ Grand Prix 2012/2013
2nd NZ Championship 2012/2013
1st Baypark Sprintcar Championship 2012/2013
1st Bay of Plenty Sprintcar Championship 2012/2013
Sprintcar Driver of the year 2012/2013 – Auckland Sprintcar Club Awards
Sprintcar Driver of the year 2012/2013 – NZ Speedway Awards
Sprintcar Driver of the year 2013/2014 – NZ Speedway Awards
2nd North Island Championship 2013/2014
Team Captain – Team New Zealand International Series vs AUS and USA 2014/2015
2nd International Series 2014/2015
1st Andrew Edwards Memorial Baypark 2014/2015
1st Western Springs National Series 2014/2015
3rd International Series 2015/2016
3rd Western Springs National Series 2015/2016
2nd NZ Championship 2015/2016
2nd Inaugural Champion of Champion Series
2nd Winged Thunder Outlaw Meeting