Hall of Fame - Jono Gibbes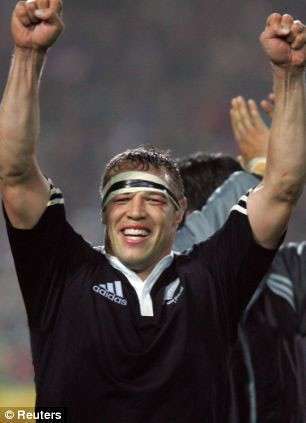 Jonathan Brian Gibbes was born on 22 January, 1977, in Henderson. He later attended Te Awamutu College and went on to become a respected international rugby player (blindside flanker and occasional lock).

Jono Gibbes, either at lock or as a blindside flanker, was a prominent and popular player through most of the 2000s, giving excellent service, frequently as captain, especially to Waikato and the Chiefs.

He was justly rewarded with eight test caps in the 2004-05 seasons, but further All Black opportunities were curtailed mainly because of the many injuries he suffered, and perhaps because as a tight forward he tended to fall between two stools. In many ways he resembled a contemporary and rival for an All Black position, Reuben Thorne, and another Cantabrian, Todd Blackadder.

At around 1.94m, like Thorne and Blackadder, he lacked the extreme height of a top international lock and for the back row he was slightly deficient in mobility and agility. But for the most part, he compensated admirably with his application, his determination and his natural leadership skills. And his comparative lack of height did not stop him being an outstanding lineout forward, blessed with an impressive leap and aerial skill.

While he was a worthy All Black, Gibbes probably made his biggest impact at national level with New Zealand Maori, for whom he made nine appearances between 2002 and 2006. He played for the Maori in what effectively was a test against the Wallabies in 2002 and the highlight was another international appearance when at Hamilton in 2005 he led the Maori to a famous win over the Lions.

Gibbes entered first class rugby as a member of the New Zealand under 21 sides in 1997 and 1998 and it was not until the 2000 season he first played for Waikato, appearing in a number of Ranfurly Shield matches including the loss to Canterbury. He did sufficiently well in his debut representative season to make the Chiefs squad for the 2001 Super 12.

For much of his early career Gibbes was usually played at number six and it was in this role primarily, but also for his ability to stand in as a lock, that he won All Black selection for the 2004 season.

He played both of the early season tests against England, starting ahead of Jerry Collins, came on as a substitute against Argentina and then was preferred to Collins against the Pacific Islands and in three of the tri-nations tests, twice against Australia and once against South Africa.

But by the season's end he was playing more for Waikato in the NPC as a lock and he was chosen in this position for the short European tour. Injury, however, forced his withdrawal, his replacement being none other than Thorne.

In 2005 he had his greatest triumph, leading the Maori against the Lions, but by now Collins was firmly established as the All Blacks' blindside flanker and Gibbes' only All Black involvement was as a late replacement at lock in the second test against the Lions in Wellington.

That proved to be Gibbes' final All Black performance. For the rest of his career persistent injuries meant his first class appearances were sporadic, though playing at lock he achieved another landmark honour, leading Waikato to the inaugural Air New Zealand Cup title in 2006. Gibbes struggled with injuries both for the Chiefs and Waikato in the 2007 season and while he returned as captain of the Chiefs in 2008 he made only three appearances at the start of the Super 14, then two towards the end of the competition from the bench. A chronic knee problem caused his retirement from the game at all levels just before the start of the season's ANZC competition.

Deeply respected by all in New Zealand rugby, Gibbes bowed out, having played 155 first class games, 68 of which were for the Chiefs and 64 for Waikato.