Hall of Fame - Mike & Doug Tamaki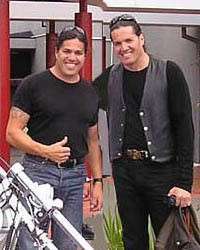 Tourism's extraordinary entrepreneurs, Doug and Mike Tamaki, were born and brought up in Te Awamutu.

Mike entered the tourism industry in the 1980s as a coach driver but with his brother set up their own business, Tamaki Tours Ltd, in 1989. With very little finance, Doug's prized Harley Davidson motorcycle was sold for a deposit on a 16 seater minibus. This marked the beginning of a journey to establish Maori culture as a unique icon for New Zealand tourism.

They created from scratch a pre-European Maori village near Rotorua. The business has won countless business and tourism awards, including New Zealand's Supreme Tourism Award and Ernst and Young Entrepreneur of the Year Award.

They have expanded with similarly themed enterprises in Christchurch and Manakau.