Hall of Fame - Neil Finn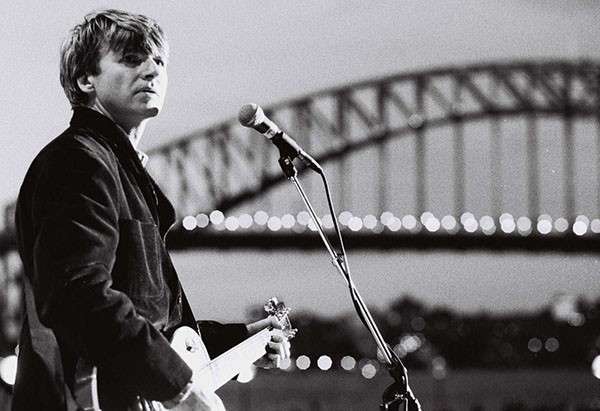 Neil Finn is a songwriter. He was born in Te Awamutu on May 27, 1958, the youngest child to accountant, Richard Finn, and Irish immigrant, Mary Finn (nee Mullane). Neil's happy childhood included parties in the family home, complete with wine and song, catholic priests in attendance, and an obligatory performance from Neil and older brother Tim. Mother, Mary, was known for her enthusiastic songs on the piano...all in the same key, while their father, Richard, though a music enthusiast, was tone deaf. The boys both took music lessons, beginning with piano, and their mother taught them to sing in harmony.

Though Tim was the more reluctant performer of the two, in 1972 he went on to form one of the most successful bands to ever originate from New Zealand, Split Enz. Neil was too young to join the band initially, as he was still in school, but sometimes opened for Split Enz as a solo artist in the band's early years. When Neil left school, because they would not let him major in music, he took a job as a hospital orderly and formed a band called After Hours.

One day, Neil's unexpectedly got a call from older brother Tim, asking him to join Split Enz as lead guitarist. Though Neil only was proficient on acoustic guitar, not electric, he agreed to join...eventually. As the story goes, Tim was surprised when Neil said he would have to think about it....after all, he had his current band to consider. Split Enz was taking a big leap of faith, trusting in his talent and ability to learn, and after a period of keeping his guitar playing low in the mix, and band members refusing to play on the same side of the stage as him (he was that bad) eventually Neil grew into his role. And then some. Not only is Neil a skilled and respected guitarist today, but some of Split Enz's biggest hits are Neil's originals, including "Message to My Girl" and "I Got You". Not long prior to joining Split Enz in 1977, Neil was introduced to Sharon Johnson, who he married in 1982, and with whom he had two children, Liam (1983) and Elroy (1989).

After Split Enz broke up in 1984, Neil and Australian Enz drummer, Paul Hester, formed a band called The Mullanes with Australians Nick Seymour and Craig Hooper. Craig soon left the band, and the name changed to Crowded House, reflecting the cramped quarters in which they lived while in Los Angeles, recording their self-titled debut album,. Crowded House managed to break the US market with #2 hit song, "Don't Dream It's Over", something Split Enz had been unable to accomplish. However, in the US, their success was short lived, and they were known as one-hit-wonders, while in the rest of the world, they were just getting started. Crowded House went on to record 3 more albums, "Temple of Low Men", "Woodface" and "Together Alone", which, despite increasing success in Europe, Australia and elsewhere, had little success in North America. Elsewhere in the world, the band continued to have success, their fourth album receiving high critical acclaim. Also, multi-instrumentalist, Mark Hart, who had toured with the band for years, joined as an official member for their fourth album. During the tour for "Together Alone", Paul Hester, after years of suffering with bouts of depression, reached a breaking point and felt the need to leave the band. He was replaced by drummer, Peter Jones for the remainder of the tour, but the band broke up shortly after. Their final concert, entitled Farewell to the World, took place on the steps of the Sydney Opera House in 1996, before an audience of an estimated 150 thousand people.

Neil went on to release two solo albums, "Try Whistling" This and "One Nil" (known in some parts of the world as "One All", which has an alternate track listing). Both albums, fan favorites, received higher critical acclaim than commercial success. The same is true for the two Finn Brothers albums with brother Tim, "Finn" and "Everyone is Here". Neil's other projects include a soundtrack for New Zealand movie, Rain, and various collaborations. Of particular note is the 7 World Collide projects, which featured Neil and friends in a super band of sorts, and including Johnny Marr, Eddie Vedder, Phil Selway, Ed O'Brien, Lisa Germano, Sebastian Steinburg and others. The second project did not include Eddie Veddier, but saw the addition of Wilco, including Jeff Tweedy, KT Tunstall, and New Zealanders Don McGlashan and Bic Runga. Both projects saw the involvement of Neil's brother Tim and Son, Liam, with the second involving, as well, Neil's younger son, Elroy, and wife, Sharon. In fact, the second project was a family affair all around with other band members' families getting involved.

After the death of drummer Paul Hester in 2004, Neil felt drawn to rekindle his musical and personal relationships with Nick Seymour and Mark Hart, and the result was a new Crowded House album, "Time on Earth", with Beck drummer, Matt Sherrod. The album is laden with echos of the grief and loss regarding the death of their former band-mate. The second album from reformed Crowded House, "Intriguer", showed a new band, carving a new identity. Both albums included world tours.

After the second reformed Crowded house tour, Neil and Sharon Finn found themselves dealing with the new experience of "empty nest", and began having late night jams in their pyjamas. Sharon was a novice on bass guitar, and, so, Neil, so as not to place himself as the "superior" musician in the duo, chose an instrument where he was not proficient, the drums. The recording that came out of these jams evolved, with the the help of friend, Sean Donnelly, into tracks for an album under the name Pajama Club, the spelling reflecting the origin of the band: Pa and Ma having a jam...in their pyjamas! The original name was to be Pajama Party, but the name was already taken. The band did little touring, with drummer Alana Skyring, before its current hiatus, with no word on whether it may reemerge.

Neil's third solo album, due out mid to late 2013, which involves his wife and both sons - a true family affair. Also, Neil has co-written and performed the song for the closing credits for the movie "The Hobbit: An Unexpected Journey", released in December, 2012.