Hall of Fame - Prof. Bill Denny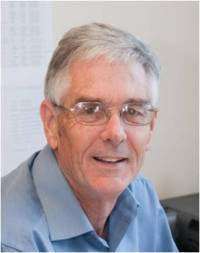 Distinguished Prof. Sir William (Bill) Denny ONZM FRSNZ
Bill Denny was Dux of Te Awamutu College in 1961. He trained at Auckland and Oxford Universities as a medicinal chemist/drug designer. Co-founding scientist of Proacta Therapeutics, and co-PI in the Centre for Molecular Bioscience, University of Auckland. Past-President of the NZ Society for Oncology and the NZ Institute of Chemistry. Rutherford Medallist of the Royal Society of NZ, and Adrian Albert Medallist of the UK Royal Society of Chemistry. Officer of the NZ Order of Merit for services to cancer research.
Bill leads the Medicinal Chemistry Group at the Auckland Cancer Society Research Centre.
Distinguished Professor Bill Denny has been at the forefront of anticancer drug research for more than 40 years and was appointed an Officer of the New Zealand Order of Merit in 2003 for his contributions in this field.
Professor Denny has continued in his role as Director of the Auckland Cancer Society Research Centre at the University of Auckland, having held the position since 1999. Over the course of his career he has led teams which have taken 15 cancer drugs from the discovery phase through to clinical trials, and in some cases application in the clinic. Additional research at the Centre has led to an anti-tuberculosis drug in 2015 and an anti-Leishmaniasis drug in 2017. As part of the development of these drugs, he has been a co-founding scientist with Proacta Theraputics in San Diego and Pathway Theraputics in San Fransisco, and has worked with the Global Alliance for TB and the Geneva-based Drugs for Neglected Diseases Initiative. He co-founded Kea Theraputics in 2018, which is developing a range of anaesthetics and analgesics to reduce the reliance on opioids. He has authored more than 700 publications is a co-inventor on close to 70 US patents. Professor Denny was appointed to the American Chemical Society Medicinal Chemistry Hall of Fame in 2016.
Knighted in 2021 for services to medical research.