TA College students savour culinary success
TA College students savour culinary success - Recent News - Te Awamutu College
---
The Te Awamutu College hospitality department says it was pleased to have the opportunity to compete again at the Waikato Culinary Fare this year.
The students relished the opportunity to devise exciting dishes to showcase their skill and flair in a variety of categories ranging from cupcakes to burgers and cold desserts to espresso.
The journey to get to the competition was as important as the event itself. During this journey, the budding chefs and baristas experimented with flavours, textures and techniques and put the final touches on executing their presentation.
"I am super-proud of how well the students have done, they worked really hard in the lead-up to this competition, both inside and outside of school. They did a lot of research, trials and practices with the timer going," says Te Awamutu College hospitality teacher Will Cawkwell, who is also the Year 11 Dean.
"The students had to be here at 6am in the lead-up which resulted in some big days, and they managed to pull it together and shine. Their confidence grew from this experience. It was an awesome experience for them."
The big event took place on the final two days of term two. The school took a team of 22 students to Wintec to put their hard work into action.
It was a great two days of competition and experience for the students who were up against schools from throughout the Waikato, Bay of Plenty and South Auckland.
"Our students represented the Te Awamutu College with pride and came away with excellent results and a number of medals," says Cawkwell.
Olivia Bell, who entered the cold dessert, cupcakes, cafe cake and mystery box categories, said she thought it was fun. "It was also a little bit stressful as I had not taken part before, but I did the mystery box competition with my friend so we had each other," says Bell.
"Will Cawkwell and Maree Letford were very helpful and made sure everything went smoothly, they were very supportive of us," adds Bell.
Kaitlyn Evemy, who gained silver, which is the top result of that competition in the mystery box section, says, "Livia Bigham and I went into the mystery box to have some fun, and we ended up winning, so that was really cool. But we were really just having fun with it and singing songs while we were doing it." "We want to do another one," adds Evemy.
Holly Anderson received gold in the barista category and says she enjoyed the experience.
"It tested us in different areas in things that we wouldn't necessarily get tested on in the classroom."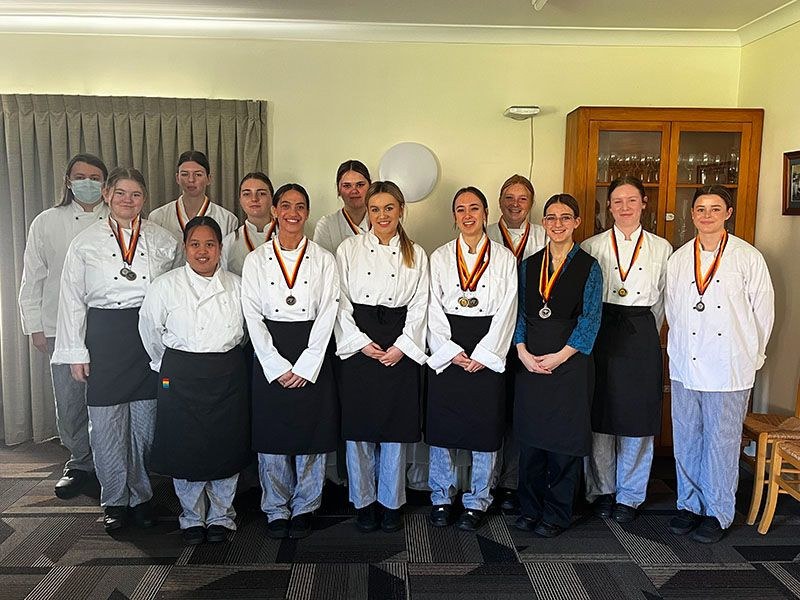 Results:
Cup Cake — Secondary School Culinary:
Hayley Morton: Gold
Olivia Bell: Gold
Charlotte Miller: Silver
Olivia Krippner: Bronze
Cold Dessert — Secondary School Culinary:
Livia Bigham: Silver
Olivia Bell: Silver
Emily Brown: Silver
Ben Fitzpatrick: Bronze
Ella-May Riddell: Bronze
Penelope Rice: Bronze
Mystery Box - Secondary School Culinary:
Livia Bigham and Kaitlyn Evemy: Silver
Ella-May Riddell and Olivia Bell: Bronze
Creative Savoury Pizza - Secondary School Culinary:
Courtney Young: Silver
Creative Burger - Secondary School Culinary:
Jorja Demler: Silver
Nina Lugtu: Bronze
Maia Neil: Bronze
Barista — Secondary School Culinary:
Holly Lindsay: Gold
Holly Anderson: Silver
Skye Murray: Bronze
Nina Lugtu: Bronze
Kaitlyn Evemy: Bronze