Head Students 2020
Head Students 2020 - Recent News - Te Awamutu College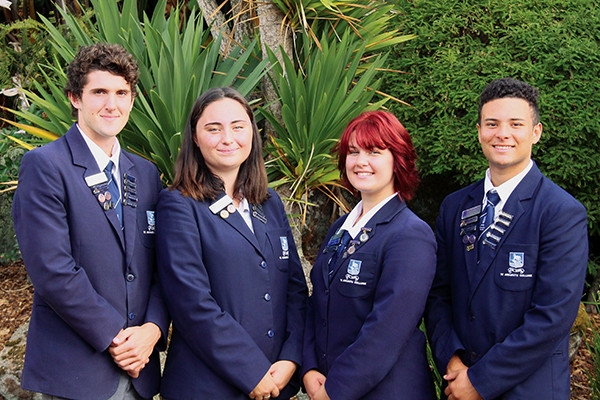 Te Awamutu College Head Students for 2020 are Troy James, Oksana Voznyuk, Kate Yarndley and MJ Neethling, young men and women who have been successful students in various fields and who have displayed leadership qualities.
Joining them as part of the senior student leadership team is Board of Trustee representative Atareipounamu Crown.
Kate Yarndley
In 2020, Kate is taking English, Calculus, Sports Science, Media Studies and Graphics and Design.
In the previous two years of NCEA Kate has done well, achieving Level 1 with Excellence endorsement and Level 2 with Merit endorsement. She has played hockey for Te Awamutu College since Year 9 for the First XI team.
Kate's goals for 2020 are to fulfil her role as Head Student to the best of her ability while also improving on public speaking. She also hopes to captain one of the hockey teams and gain NCEA Level 3 with Merit endorsement.
After graduation, Kate plans to study Christian Studies at Laidlaw College in Auckland.
Oksana Voznyuk
Oksana's subjects of choice are English, Calculus, Earth and Space Science, Drama and Painting.
She has completed her goals over the past two years by endorsing both NCEA Level 1 and 2 with Excellence.
Oksana has a passion for the arts and has expressed herself through drama and art and over the years has been involved in music and plays several instruments.
Her goals for this year are to achieve Level 3 Endorsed with Excellence, fulfil the role of Head Student to the best of her ability and do her best to achieve as well as participate in as many things as manageable in the last year of college.
Next year Oksana plans to study Psychology, moving into Clinical Psychology, with either a Bachelor of Science at Victoria University/University of Waikato or Bachelor of Biomedicine at The University of Auckland.
MJ Neethling
MJ's chosen subjects for 2020 are Dance, Sport and Recreational Studies, Sports Science, Sport Elite and Mathematics.
He really enjoys playing sport and being active in daily life. This will be his third consecutive year playing for the Te Awamutu College 1st XV and is looking forward to seeing what his final season has in store for them as a team.
MJ also has a passion for dance. He has represented New Zealand in multiple hip-hop competitions throughout Australia and Europe.
One of his goals for 2020 is to; first of all, carry out his role as Head Student to a high standard and to also further his growth and knowledge in dance while pushing himself to be the best person possible.
MJ's academic goal is to pass NCEA Level 3 achieve at least 15 credits at Excellence level.
Troy James
During 2020 the subjects that Troy has chosen are Sport and Recreational Studies, Sports Science, Sport Elite, Mathematics with Statistics and Media Studies.
Sports are a passion for Troy and something that he takes great pride in. He was co-captain of the 1st XV in 2018 and 2019 with 2020 being his third consecutive year as co-captain.
His goals for this year are to gain NCEA Level 3 and University Entrance as well as develop his public speaking skills.
Troy hopes to take hold of the opportunities and challenges that are presented to him through the role of Head Student to better himself as a person.
After finishing school, Troy intends enrolling in the Royal New Zealand Navy and becoming a physical training instructor before becoming a professional fitness instructor.
Atareipounamu Crown — Board of Trustees Student Representative
Atareipounamu was elected as the Student Representative on the Board of Trustees for 2020 and is thankful to the students for giving her the opportunity.
The subjects she is taking are English, Mathematics, Physics, Chemistry, Sports Science and Sport Elite. All of these will help her to reach her future goals that revolve around rugby as well as a career in the medical profession.
In 2019, she gained NCEA Level 1 endorsed with Merit but aims to achieve NCEA Level 2 endorsed with Excellence this year.
Atareipounamu is motivated in both sporting and academic education. Rugby is her main sport and she is the captain of the Girls 1st XV.
Last year she represented Waikato in the Under 16 and Under 18 grades. This year she hopes to not only accomplish the same goals but to possibly achieve higher.
She looks forward to being the student voice of Te Awamutu College and representing her peers to the best of her ability.