Top Achiever Megan Walker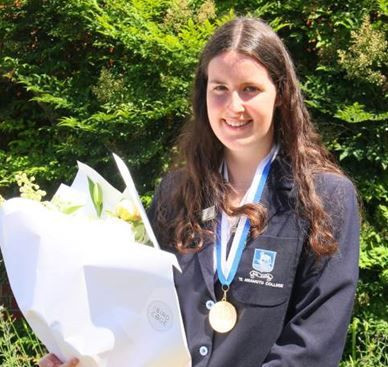 Recipient of the Waipa District Council Service to the Community Award and AG Freeman Medal for Dux Litterarum (Sponsored by Canon) was Megan Walker.
Megan was a capable and reliable chairperson of the 2021 Service Committee, able to not only lead but also to delegate effectively.
The Service Committee selected three humanitarian/charitable causes for Mufti Days in 2021: SPCA; CanTeen; and Loving Arms to raise funds and awareness.
Megan and other members of the Service Committee also gave their time and energy to running a free sausage sizzle for parents/caregivers and students on report evenings.
Academically she was First in Subject Chemistry (McKinnon Cup), Graphics and Design (Noel Cox Cup and Paper Plus Award) and Physics (Rutherford Cup) and received the Mathewson Cup for Excellence in Sciences and, to date, has attained Excellence credits in all 56 Level 3 credits attempted.
Megan also received the University of Waikato Te Paewai o Te Rangi Scholarship for Outstanding Academic Achievement, valued at to $25,000 in the first three years of study. She is enrolled in a four-year degree in Chemical and Biological Engineering.
Megan says the engineering option was able to combine her favourite subjects, chemistry, biology and calculus.
During the middle two years she is required to also complete work experience and she hopes this will provide inspiration for where her degree could lead.
Megan starts her new academic year in February, when she will be staying in the Halls of Residence to undertake Kick Start.
But she plans to stay at home in Te Awamutu and commute for her fulltime study initially, and keep her part-time job she enjoys at Showcase Jewellers.