Outstanding young farmer wins in agriculture awards
BY BETHANY ROLSTON
A 14-year-old from Te Awamutu College has been identified as an outstanding entrant in prestigious national agricultural awards.
Alex Fitzgerald was named Competitor of the Year in the FMG Junior Young Farmer of the Year awards.
He won $500 worth of prizes, clothing, a trophy and a framed certificate.
The competition, which took place in the Hawke's Bay Showgrounds last week, tested students' practical and theoretical knowledge.
Tests included installing a farm water system, spot- ting safety faults on a piece of agricultural machinery and sitting an agribusiness exam.
Alex entered the competition with his friend and classmate Alex West, also from Te Awamutu College, after the pair placed second in the regional final.
The boys had a rocky start after Alex West was involved in a car crash on his way to the first event.
He was in the car with his mother and grandmother, both who got injured and went in an ambulance to hospital.
Alex walked away from the crash without injuries and was determined to turn up to the first challenge, despite being shaken, wet and cold.
The boys came 12th in the overall national competition and were pleased with their efforts, being among the youngest in the contest.
NZ Young Farmers competitions coordinator Jake Lonergan said Alex showed excellence across all modules.
"Judges were looking for someone who worked well in a team, was polite, a great communicator and who stood out from the other competitors," she said.
"When I collated the score sheets, judges mentioned Alex time and time again, which is a credit to his character."
His favourite parts of the competition were driving a large New Holland Tractor, making a speech about sustainable farming and working with his good mate.
The challenge he found most difficult was identifying invertebrate insects.
Alex Fitzgerald runs his family's lifestyle block on Ngahape Rd and helps out on his grandparents' 404ha beef and sheep farm.
Both boys take agriculture as a subject at Te Awamutu College and are in the Young Farmers Group at school, led by teacher James Saunders.
The pair thank their teacher and local sponsors VE Vets, Farm Source, Qubik, Vet Ent and Ballance Agri-Nutrients.
The winners of the coveted national title were Finn Beamish and Matthew Halford from Napier Boys' High School.
The event is a key part of the work being done by NZ Young Farmers to attract students into the agri-food sector.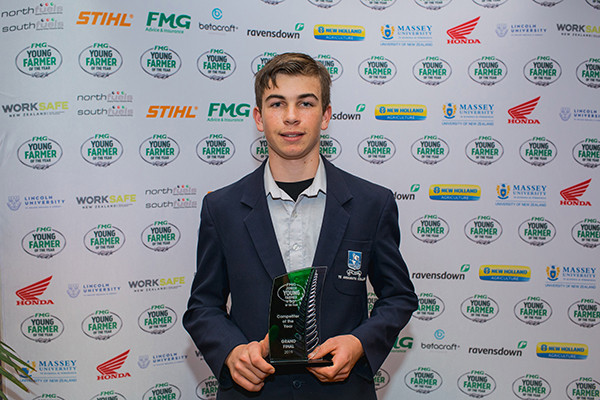 Article courtesy of Te Awamutu Courier